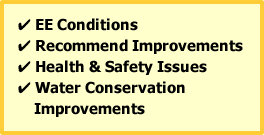 Inspection Perfection is excited to offer this FREE Energy Efficiency Assessment. Theses questions are designed to tell us just what we need to know to get a quick understanding of your home's energy efficiency.
This brief questionnaire is based on conducting hundreds of advanced energy assessments throughout San Diego County in the past five years.  In less than five minutes of your time, we're confident we can clearly identify issues and set next steps that are practical and effective.
After we review your answers about your home, we will email you to thank you for filling out the form and to set up a phone conversation or report. We will let you know what we are thinking – about energy upgrades, rebates, financing, and more. We will listen to your needs. We will answer your questions. And we will tell you what we would do if we were you.
We look forward to working with you. We share your concerns about energy! We are glad you are doing something about it!
Thanks for filling out this questionnaire! You are on your way to learning what you need to know to make sense out of energy upgrades!
Look for our email thank you. We will use it to set up our personal phone call. We look forward to meeting you!