This extensive list of Home Inspection Resources includes contact information for several local contractors and city building permit offices. We hope you find this list of Home Inspection Resources helpful!
Foundation
R A D Construction Inc.

San Diego

(619) 698-4621

Cracked Slab & Foundation Specialist – Free estimate

Structural, Soils, Foundation Engineering Services
Private Eyes Engineers

San Diego

(760) 599-8566

Massood Gaskari, P.E.

Electrical
Beck Electric & Data Services

San Diego

(619) 997-2325

Free estimate

, Escrow Estimate fee based.
Solar Renewable Energy
Milholland Electric

San Diego

(858) 541-1097

Nestor Morales

Geotechnical Engineer
Martin R. Owen, PE, GE

San Diego

(619) 813 8462

Soil Investigations, Foundation Engineering,

CDW Lamonte

San Diego

(619) 462-9861

HVAC
ASI Hastings

San Diego

(800) 481-2665

Roofing
RSI Roofing

San Diego County

1-888-ROOF-RSI

Call for Estimates, – Lic. # 493667 C-39 D-24

Roofing & Maintenance, Inc

Gary Martin

(760) 749-0971

Roof Inspections
Mold Inspector
VM3 Environmental Inc.
Andy Konopacki

San Diego Area

(760)273-9728

Building Permits Information
City of San Diego

Procedure

(619) 446-5350

Technical

(619) 446-5000

Field Off

(858) 492-5070

City of Chula Vista
Main Office
8am – 5pm

(619) 691 5272

Eastern Office
8am – 4pm

(619) 409 5868

National City

(619) 336 4210

City of La Mesa

Main Office

(619) 667-1176

Building Division
City of El Cajon

El Cajon

(619) 441-1741

City of Santee
M-Thur 8-5pm
Fri 8-1pm

(619) 258-4100
Building permits(San Diego) Online
Simple no-plan permits for water heaters, electrical outlets, gas lines, and simple plumbing work can now be processed and obtained electronically
http://www.sandiego.gov/development-services/industry/simplepermits.shtml
Home Inspection Resources
Energy Assessment Resources
203K Resources
General Information
Business Development
For a process related question call
For a technical question call
Email: dsdpermits@sandiego.gov.
Field Office:
More info link to:
Plumbing Retrofit Ordinance Compliance
San Diego Municipal Code (SDMC) 147.04, requires that all buildings, prior to a change in property ownership, be certified as having water-conserving plumbing fixtures in place. All residential, commercial and industrial water customers who receive water service from the City of San Diego Water Department are affected by this Ordinance.
More info link to: http://www.sandiego.gov/water/conservation/selling.shtml
Utility – SDG&E – 1-800-411-SDGE (7343).
Customer Service: Start service, stop service Online
Utility – Water/Sewer (619) 515-3500
Consumer Alerts
Inspection Perfection monitors trends in innovation and consumer alerts affecting all areas covered in home inspections. Our inspections will alert of specific defective building materials & appliances. These alerts not only identify possible damage but also of potential danger.

Furnaces
Consolidated Industries (formerly Premier Furnace Company)
http://www.cpsc.gov/cpscpub/prerel/prhtml00/00190.html
Electrical Panels

Zinsco
Zinsco panels were installed in the mid 50's through the 60's. Hazards exist with the aluminum bus bars which corrode and create a poor connection with breakers. Breakers are also known not to trip under the designated load. In that case, these units may be well beyond their useful life. It is recommended to have these panels inspected by a certified licensed Electrician.
Have it thoroughly inspected by a State licensed electrician. It may be that it is still in serviceable condition.
Federal Pacific Electric
Manufacturer of electrical panels and breakers from 1950's until the early 1980's. Numerous problems plagued this product and make this a serious concern for the viability and safety for a residential electrical system.

Please click here for a more thorough understanding. (Requires Free Adobe Reader).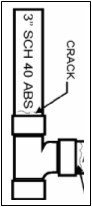 Waste pipings – Defective ABS Pipe
Phoenix, Gable, Apache, Polaris, Centaur
ABS pipe is rigid black plastic pipe used to drain sinks, tubs, showers, toilets, washing machines and dishwashers allege that ABS pipe manufactured at certain times between 1984 and 1990 by Polaris Pipe Co. ("Polaris"), Gable Plastics, Inc. ("Gable"), Centaur Mfg., Inc. ("Centaur"), Centaur Marketing, Inc. a/k/a Phoenix Extrusion Co. ("Phoenix"), and Apache Plastics, Inc. ("Apache") is defective and may leak.
Below is a link to information of how identify this product, lawsuit information and how to file a claim.
http://www.abspipes.com/
Aluminum Wiring Its not the media, aluminum, it's the connections
Aluminum wiring, used in some homes from the mid 1960's to the early 1970's, is a potential fire hazard. According to the U.S. Consumer Product Safety Commission, fires and even deaths have been reported to have been caused by this hazard. Problems due to expansion can cause overheating at connections between the wire and devices (switches and outlets) or at splices. CPSC research shows that "homes wired with aluminum wire manufactured before 1972 are 55 times more likely to have one or more connections reach "Fire Hazard Conditions" than are homes wired with copper. "Post 1972" aluminum wire is also a concern. Introduction of the aluminum wire "alloys" in 1972 time frame did not solve most of the connection failure problems. Aluminum wiring is still permitted and used for certain applications, including residential service entrance wiring and single-purpose higher amperage circuits such as 240V air conditioning or electric range circuits.
http://www.cpsc.gov/CPSCPUB/PREREL/prhtml74/74015.html
| | | |
| --- | --- | --- |
| Kudzu | Write a review | |
This list of Home Inspection Resources will be updated periodically as needed.