Depending on your resource, there are many ideas of what is covered in an energy assessment. As a BPI certified energy analyst & Calif Home Energy Rater (HERS), we conduct comprehensive energy assessments and can provide you with Energy Efficiency reports.
Benefits of these assessments:
Thorough analysis of the home's energy efficiency
The cost-effectiveness of energy efficient improvements, lower utility costs
Identify tangible comfort improvements
Health & Safety considerations
Rebates & Financing available to offset your EE improvements
Please download our sample Energy Efficiency reports to see these benefits. We encourage you to contact us to discuss your specific needs and concerns.
Energy Efficiency Performance Report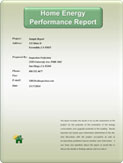 This Energy Efficiency report is based on capturing: an inventory of fixed appliances, home dimensions including windows & orientation and diagnostic testing. It also captures your utility rates and weather data specific to your property. All this data is compiled and modeled and identifies energy usage breakdown and seasonality. The biggest benefit is that it identifies the effectiveness of energy efficiency improvements. Each improvement will identify annual utility savings and energy efficiency ratio. This greatly helps the homeowner to identify what and where to implement energy efficiency improvements.
Inventory of fixed appliances: heating/cooling, water heater, kitchen & laundry
Building measurements including walls, windows, roof and their EE characteristics
Diagnostics testing for air leakage and ducting leakage
Lastly, these reports will identify rebates available through Energy Upgrade Calif.
Energy Efficiency Conditions Report
The Energy Efficiency inspection report provides an assessment of all of the major components in a home that affect its energy efficiency.
Specific climate
Building characteristics including age, orientation
Insulation conditions of walls, ceilings and crawlspace
Window types, orientation
Roof ventilation
Heating/cooling/ducting systems
Water heater
Appliances – Kitchen & laundry
Lighting and controls
Energy Utility bill review
Health & Safety conditions
This helps identify any conditions of these areas what will contribute on the homes energy efficiency with lower utility costs, improve comfort and making home healthier and safe